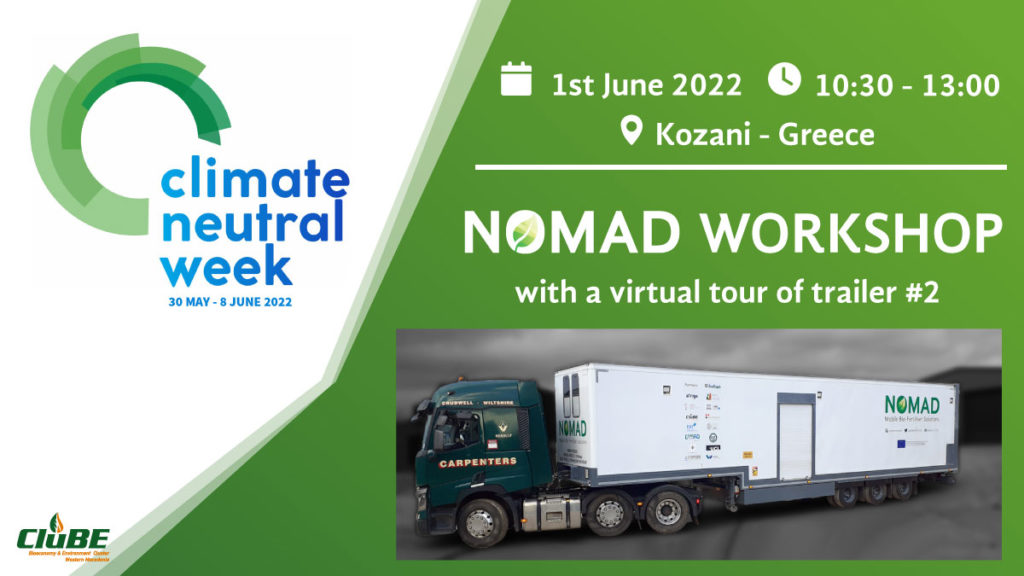 Climate Neutral Week - 30 May to 8 June 2022
The "Climate Neutral Week" is organized in the Greek city of Kozani by CluBE (Bioeconomy and Environment Cluster of Western Macedonia) in collaboration with other local companies and institutions from May 30 to June 8. There will be panel discussions, workshops, exhibitions and talks.
As part of this event, NOMAD will offer a workshop on 1st June 2022:

10:30 – 11:00 Registration
11:00 – 11:20 Welcome speech by NIKOLAOS NTAVOS (General Manger of CluBE)
11:20 – 11:50 Live streaming with mobile unit of NOMAD at CERTH
11:50 – 12:00 Speech by DR. KYRIAKOS PANOPOULOS (Coordinator of NOMAD project)
12:00 – 12:10 Speech by VASILEIOS AMPAS (Representative of the Region of Western Macedonia)
12:10 – 12:20 Speech by TBC (Owner of Biogas Unit)
12:20 – 13:00 Open Discussion
The workshop will be held in Greek!