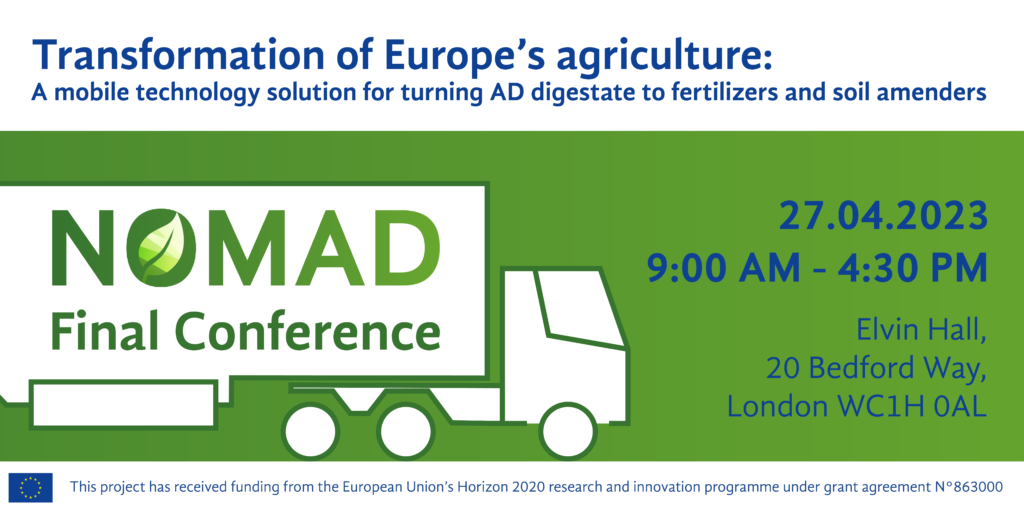 Final project conference in London
We are excited to announce that as part of the NOMAD project, we will be hosting a final conference entitled "Transformation of Europe's agriculture: A mobile technology solution for turning AD digestate to fertilizers and soil amenders" at University College London (UCL), London. The event will take place on April 27th, 2023, from 9:00 am to 6:00 pm.
The NOMAD project aims to develop and investigate a small-scale mobile technology solution for converting AD digestate into fertilizers and soil amenders. As such, the conference will be of particular interest to those interested in digestate management practices, issues associated with digestate and technology reviews, the use of digestate derivatives as soil amenders and fertilizers, nutrient recovery technologies, and the fate of antibiotics, microplastics, and other pollutants to the environment.
The conference will also feature innovative aspects and comprehensive results from the NOMAD project. Attendees will have the opportunity to participate in a discussion panel and session, providing a platform to share insights on AD digestate valorization.
Registration is required to attend the conference, but it is free of charge. To register, please visit the following link: https://www.eventbrite.co.uk/e/adding-value-to-ad-by-products-future-of-circular-bioeconomy-tickets-559487882317.
We look forward to seeing you there!